So much for Congresswoman Spanberger's claim to be a moderate. From WJLA:
Republican Virginia Attorney General Jason Miyares is slamming Democratic U.S. Representatives Abigail Spanberger, Jennifer Wexton, Don Beyer and Gerry Connolly for voting to allow D.C.'s controversial criminal code revisions to take effect.
"This is one of the most extreme criminal-first, victim-last measures we've seen across the nation," Miyares told 7News. "The idea that you would get rid of mandatory minimums for things like carjackings, get rid of enhanced penalties for most violent crimes, I just find that astounding at a time which so many cities right now we're seeing what has happened when they've implemented these criminal-first, victim-last policies. It has led to a crime explosion and tragically an explosion of more victims. And so, the fact that what happens in the D.C. metro area does not happen in a vacuum – D.C. crime absolutely affects Northern Virginia crime – and the fact that they failed at this aspect of their job, I think was very troubling."
Several major crimes have been increasing in Spanberger's, Connolly's and Beyer's Northern Virginia districts, including in Fairfax County, Prince William County, and Arlington County. 7News reached out to Spanberger, Wexton, Beyer and Connolly for their reaction to Miyares' criticism of their votes.
"I believe in local control," Rep. Connolly told 7News in a statement. "It is not the role of Congress or Attorney General Miyares to meddle in local self-governance and silence the voices of 700,000 fellow Americans who live in Washington, D.C. This is just more shameful demagoguery we have come to expect from Mr. Miyares."
"Congressman Beyer believes that residents of the District of Columbia deserve the right to make decisions that govern their community for themselves rather than having them made for them by politicians they did not elect, who are using them to score political points," Rep. Beyer's spokesperson told 7News in a statement. "This right is a basic expectation of most Americans, including Republicans like Attorney General Miyares who regularly espouse principles like self-determination and local governance, but it is being denied here to Washingtonians."
"Rep. Spanberger also believes there is a high bar for elected officials from Virginia or any other state to intervene in Washington, D.C.'s local affairs, and as D.C.'s local code change would have increased maximum penalties for horrific crimes like attempted sexual assault, attempted murder, and assaulting a police officer. Rep. Spanberger did not vote to interfere," Rep. Spanberger's office told 7News in a statement. "As always, Rep. Spanberger remains most willing to work with Attorney General Miyares and any other state counterparts on the issues that matter most to the safety, well-being, and prosperity of Virginians."
"The fact is just in 2023, so far, we've had 94 carjackings just in the area of Washington D.C., and there's just been this problem with a criminal-first, victim-last mindset and the fact is you had a D.C. Council that passed a measure that was broadly opposed by most rational thinkers, is probably opposed by the vast majority of the Democrats in the House of Representatives. The U.S. Attorney for Washington D.C. said this measure would undermine public safety, but for some inexplicable reason, the very leadership in Northern Virginia in which their constituents are the most affected by this voted against it [stopping D.C.'s crime bill]," said Miyares. "I find it inexplicable that they would so much ignore both the recommendations of the Biden Administration, the U.S. Attorneys and so many of their fellow colleagues to vote for an extreme measure."
Miyares argues the four Northern Virginia members of Congress have a duty – like all members of Congress – to provide oversight over the District of Columbia.
"D.C. is controlled by the United States Congress," said Miyares. "At the end of the day, they have oversight and is part of your job. One of the worst aspects we have is elected officials that think and assume well if I have good intentions that will guarantee good results. And so they pass bill after bill that actually ends up hurting their constituents, but they're never held accountable. I don't think that's a great mindset. Nobody in the private sector, nobody in the military, or government works that way. Only those that are in elective office that get away with 'I meant well, this was my intention.' What are the results? The results have been a skyrocketing rate of higher crime in D.C. We're seeing an uptick in violent crime in the surrounding D.C. metro area. It's so that's your job. Your job is to provide oversight. D.C. doesn't have statehood yet. We don't know if that ever will happen. But right now, part of your job and part of your role and part of why you're elected as a member of that body, is you have oversight of the District of Columbia. This is our nation's capital. This is a place that is the beacon and should be the beacon for the entire world. The idea that our nation's capital is having a crime wave that is drawing people away from D.C. instead of into DC. I don't think that's healthy. And I think that's part of your job is to step up to the plate provide the proper oversight and accountability that the District of Columbia needs." By Nick Minock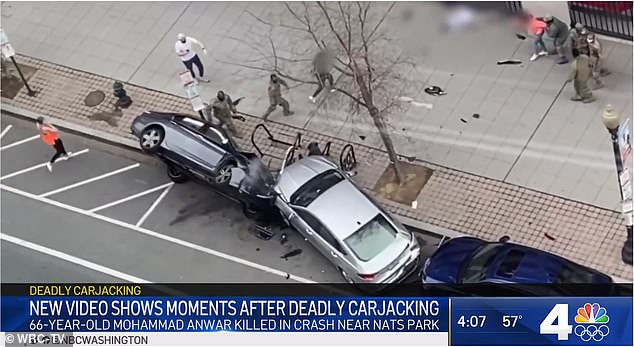 See comments2
---